RESULTS
GLOBE DERBY PARK - 8 JANUARY 2011
Proudly Sponsored by Harness Racing SA
Season Sponsors Harness Racing SA, SA Harness Racing Club and John Rothe Video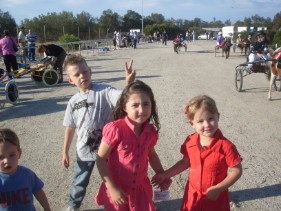 Alexia Fuller and Acacia Hryhorec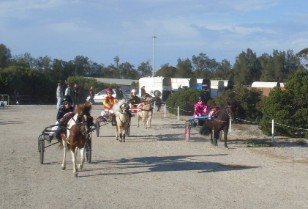 Pee Wee Penny and Angus Webster visiting from Victoria driving around the parade ring
| | | |
| --- | --- | --- |
| | RACE 1 – HARNESS RACING SA – SA CUP | |
| | | |
| 1st | Summer Surprise | Cheyenne Moritz |
| 2nd | Aadelaidee Lady | Madison Smith |
| 3rd | Chilli Knights | Chantelle Rendall |
| 4th | Mr Mischief | Bailey Hoare |
| 5th | Petti Cheval | Jennifer Lehmann |
| 6th | Way To Go | Kathryn Lehmann |
| 7th | Born To Be Wild | Cameron Jacques |
| Scr | Westbury Bogart | |
| Scr | Mr Murphy | |
| Scr | Little Paleface | |
The first race of night was a combined open class. In front of a big Globe Derby crowd all eight ponies stepping away nicely, the early leader was Born To Be Wild being off the front mark, followed by Summer Surprise, Aadelaidee Lady, Chilli Knights, Petti Cheval, Mr Mischief and Way To Go.
Rounding the bend at the 400 meter mark Summer Surprise took over the lead and never looked back. Aadelaidee Lady and Chilli Knights were closing in on the leader but Summer Surprise was far too good for them. The final placings were Summer Surprise Cheyenne Moritz, second was Aadelaidee Lady for Madison Smith and third was Chilli Knights for Chantelle Rendall.
Summer Surprise and Cheyenne Moritz made it back to back wins and were presented the winning rosette by The Governor and Dr Richard Noble.
Written by Rachel Maguire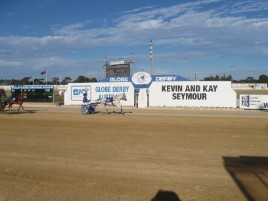 Summer Surprise crossing the line first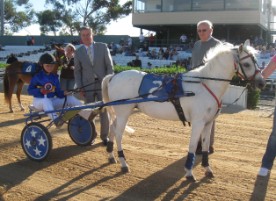 Summer Surprise and Cheyenne Moritz being presented the winning rosette from His Excellency Rear Admiral Kevin Scarce and Dr Richard Noble
| | | |
| --- | --- | --- |
| | RACE 2– HARNESS RACING SA – SHETLAND CUP | |
| | | |
| 1st | Swamp Fire | Nicholas Brown |
| 2nd | Ben Ten | Jason Kittel |
| 3rd | Pee Wee 50 | Lachlan Ramsay |
| 4th | PJ | Bryce Gilbert |
| 5th | Our Sir Patchalot | Sharni Newman |
| 6th | Razzle Dazzle | Christie Gilbert |
| 7th | Wandarra Tess | Jacinta Gilbert |
| 8th | Pee Wee Penny | Angus Webster |
| 9th | Eddy's A Fake | Jodie Billinger |
| 10th | Crackerjack | Kaycee Carey |
The second race of the night was a field of ten Shetlands going around including the interstate visitor (but SA home grown) Pee Wee Penny driven by Angus Webster the son of SA best reinsman Geoff Webster.
When the starter said go PJ was an early leader from Swamp Fire, Razzle Dazzle, Eddy's A Fake, Our Sir Patchalot, Pee Wee 50, Ben Ten, Crackerjack, Pee Wee Penny and the back marker Wandarra Tess.
Rounding the bend into the home straight PJ was soon tackled by Swamp fire for the lead and was making every post a winner out in front. Swamp Fire went on to be an easy winner from Ben Ten and Jason Kittel and third was Lachlan Ramsay on Pee Wee 50. It was a juggling of positions coming to the line with all 10 ponies crossing the line with only 15 metres separating the entire field.
This was Nicholas Brown's first win on Swamp Fire for this season and he had a massive smile on his face after the race. Well done Nicholas.
Written by Rachel Maguire
Swamp Fire and Nicholas Brown crossing the line first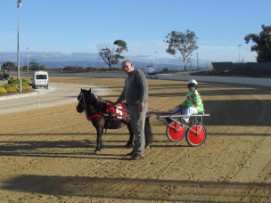 Pee Wee 50 and Lachlan Ramsay receiving the rosette for 3rd placing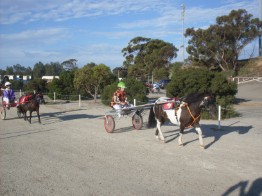 Our Sir Patchalot and Sharni Newman; PJ and Bryce Gilbert in parade ring
Swamp Fire and Nicholas Brown being presented the winning rosette from Mr Graham Taylor, Director, Harness Racing SA