RESULTS
GAWLER at GLOBE DERBY PARK
12 MARCH 2011
Proudly Sponsored by Gawler Harness Racing Club
Season Sponsors Harness Racing SA, SA Harness Racing Club and John Rothe Video
It was Gawler Harness Racing Clubs feature night at Globe Derby so there was only two pony races but as always Gawler made sure every driver received a trophy and were able to form a Guard of Honour with the winner of the Gawler Gold Cup, Our Malabar NZ.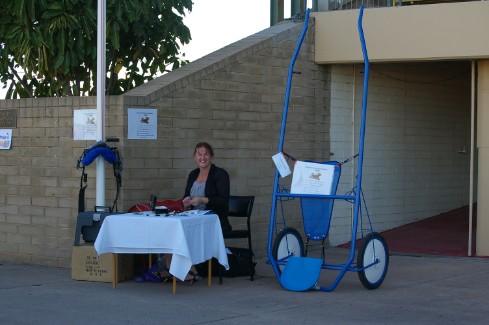 Gayle set up to sell the last of the raffle tickets at the Gawler meeting on 12 March with prizes from our very generous sponsors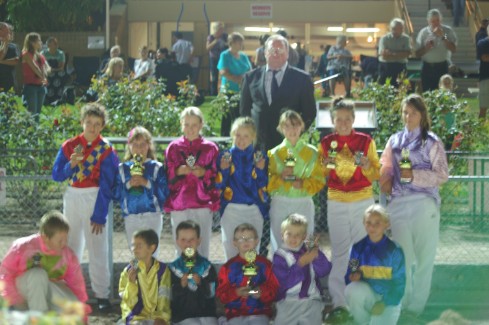 Gawler Cup drivers with Ian Smith, Gawler Harness Racing Club Committee person
| | | |
| --- | --- | --- |
| | RACE 1 – GAWLER HARNESS RACING CLUB – OPEN CUP | |
| | | |
| 1st | Reggie Ledgie | Cameron Jacques |
| 2nd | Westbury Bogart | Shannon Platts |
| 3rd | Mr Mischief | Bailey Hoare |
| 4th | Little Kizz | Christie Gilbert |
| 5th | Way To Go | Kathryn Lehmann |
| 6th d/h | Cowboy Road | Jodie Billinger |
| 6th d/h | Petti Cheval | Jennifer Lehmann |
| 8th | Summer Surprise | Cheyenne Moritz |
| 9th | Lapanacaton | Nicholas Brown |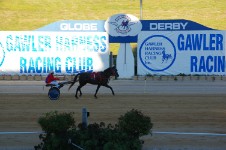 Reggie Ledgie and Cameron Jacques crossing the line first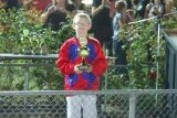 Cameron Jacques with the Gawler Cup after winning
In the first event the Open Cup there was a late pony change as Born To Be Wild was running a slight temperature and was replaced by stable mate Reggie Ledgie. It was important all drivers received a drive so they could go home with a trophy.
Cameron Jacques took over the reins of Reggie Ledgie tonight, this was his first drive on him in a race since 18 December when Reggie misbehaved but tonight he started off the front mark and trotted faultlessly throughout.
Turning for home Reggie Ledgie was out in front from Westbury Bogart who appeared quite happy to sit behind him all the way, Little Kizz, Cowboy Road, Summer Surprise and Mr Mischief making a big run out wide.
They crossed the line Reggie Ledgie first making it two Gawler Cups in a row for the combination after winning the race last season, Westbury Bogart and Shannon Platts second and the fast finishing Mr Mischief and Bailey Hoare close up in third position.
| | | |
| --- | --- | --- |
| | RACE 2– GAWLER HARNESS RACING CLUB – SHETLAND CUP | |
| | | |
| 1st | Crackerjack | Kaycee Carey |
| 2nd | Midnight Star | Sharni Newman |
| 3rd | Eddy's A Fake | Jodie Billinger |
| 4th | Wandarra Tess | Jacinta Gilbert |
| 5th | Ben Ten | Jason Kittel |
| 6th | Pee Wee 50 | Shaniah Ogilvy |
| 7th | Razzle Dazzle | Christie Gilbert |
| 8th | PJ | Bryce Gilbert |
| 9th | Two Tone Miss | Jayden Brewin |
| Rel 10th | Its All About Me | Chantelle Rendall |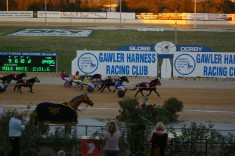 Shetlands crossing the line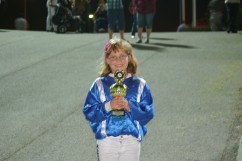 Kaycee after receiving 1st trophy
The second of the pony races tonight was the Shetland Cup, the ponies were handicapped over 160 metres and yet only finished metres apart so was a very good spectacle for the crowd.
As they said go, the two tiny tots were out in front PJ and Two Tone Miss with Eddy's A Fake, Razzle Dazzle, Midnight Star, Pee Wee50 and Ben Ten all close by. At the 250 metre mark Eddy's A Fake took over the lead but as seen in many races before Midnight Star and him like to stick together and hence went head to head all the way down the straight getting slower and slower. Its All About Me was making a run out very wide and crossed the line first but unfortunately galloped so was relegated by the stewards. Crackerjack and Kaycee Carey was also chasing Its All About Me out wide after coming from a back mark and crossed the line ¾ length first in front of Midnight Star and Sharni Newman who just nosed out Eddy's A Fake and Jodie Billinger for second with Wandarra Tess sneaking through on the rails.
The final placings were Crackerjack 1st, Midnight Star 2nd and Eddy's A Fake 3rd.