RESULTS
Kapunda Trotting Club - 8 March 2009
Sponsors today were Kapunda Trotting Club, Barossa Valley Lawnmowing Service - Marcus Hearl, Laucke Mills, Wise Family and SAHRPA
The South Australian Harness Racing Pony Association would like to thank Kapunda Trotting Club for inviting the pony's to race on the two meetings. Thank you to Barossa Valley Lawnmowing Service, Marcus Hearl for donating the trophies to the winners of both the Shetland and Open Class Cups and the Kapunda Trotting Club Caps for 2nd and 3rd placegetters. Thanks also need to go to Laucke Mills for supplying Feed Vouchers to all unplaced runners. As an added extra the Wise Family donated a small gift to the 2nd and 3rd placegetters and the SAHRPA donated a bag of lollies to all drivers and $25 Cash for 1st, $20 Cash for 2nd and $15 Cash for 3rd.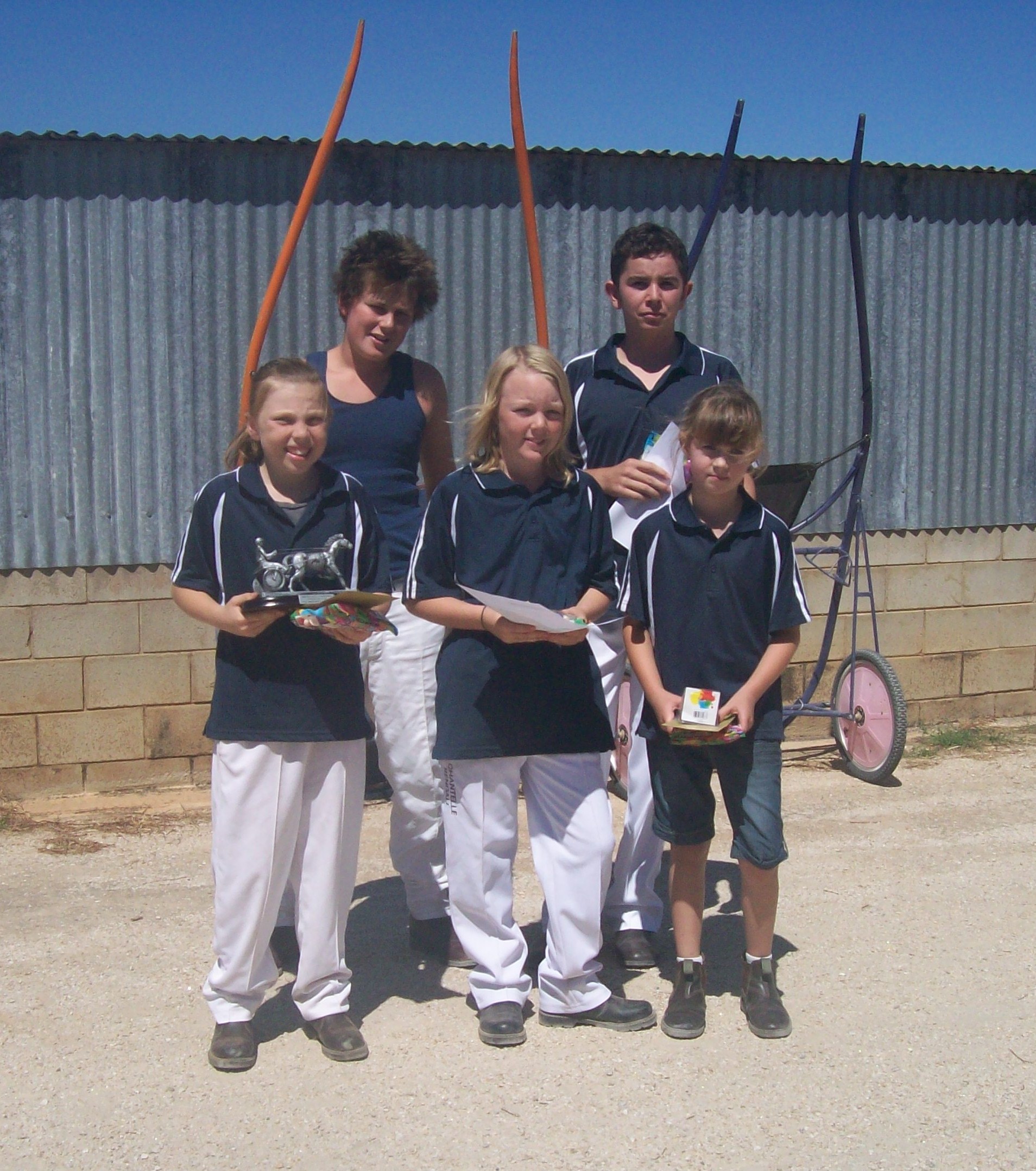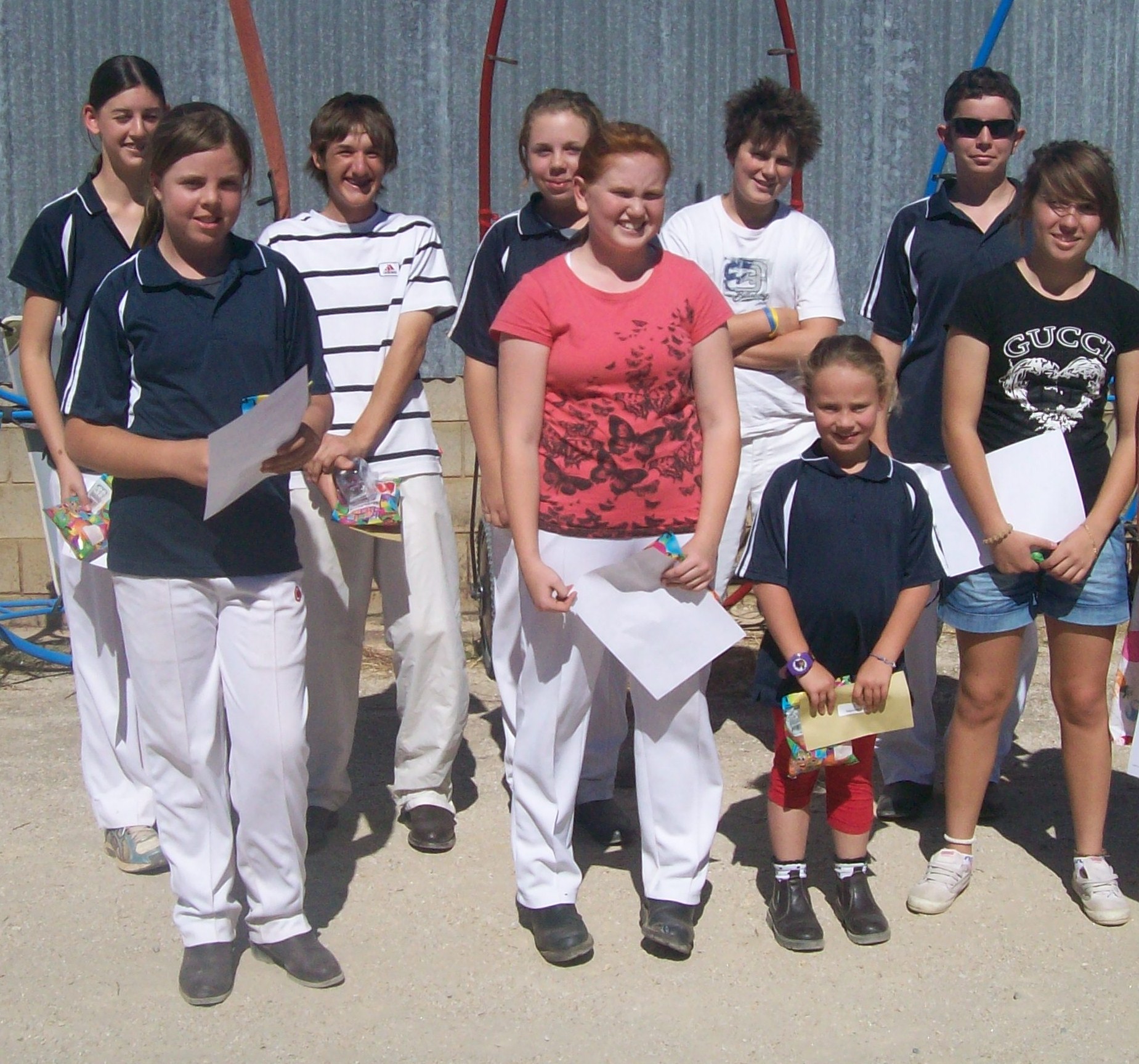 Drivers of the Shetland Pony Cup with their gifts
Drivers of the Open Pony Cup with their gifts
RACE 1 - KAPUNDA SHETLAND PONY CUP
1st – My Little Pony – Jennifer Lehmann
2nd – Midnight Star – Sharni Newman
3rd – Till We Meet Again – Brodie Webster
4th – Wandarra Tess – Jacob Starick
5th – Oungachucka – Chantelle Rendall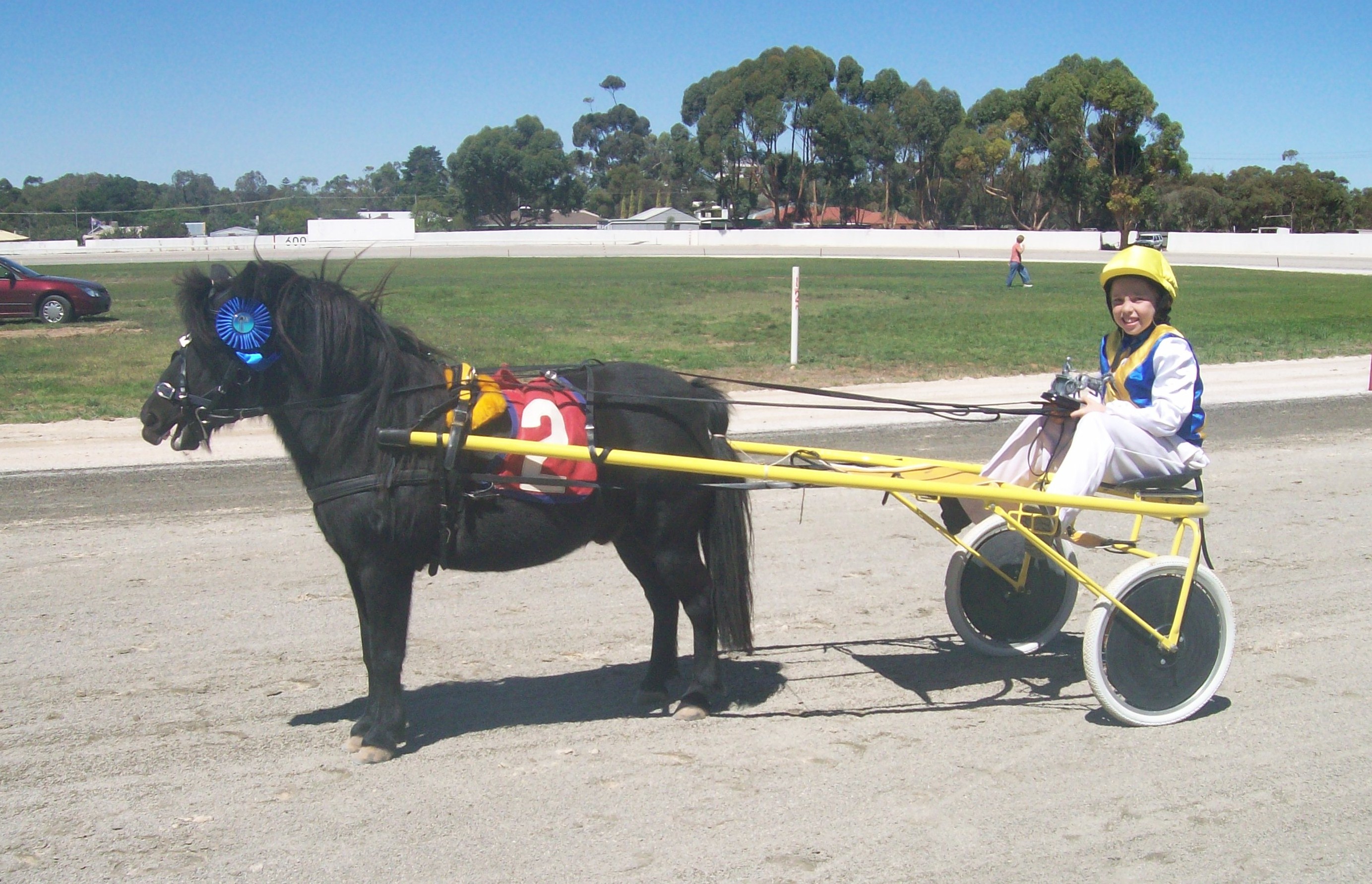 My Little Pony and Jennifer
In the Kapunda Cup for the Shetlands Oungachucka started off the front mark but was soon overtaken at the 350m mark by My Little Pony and Midnight Star. My Little Pony driven by Jennifer Lehmann definitely made amends from his performance in the heats where he didn't complete the course and today after taking over the lead early never looked like being beaten. Midnight Star battled on well for 2nd ahead of the backmarker Till We Meet Again.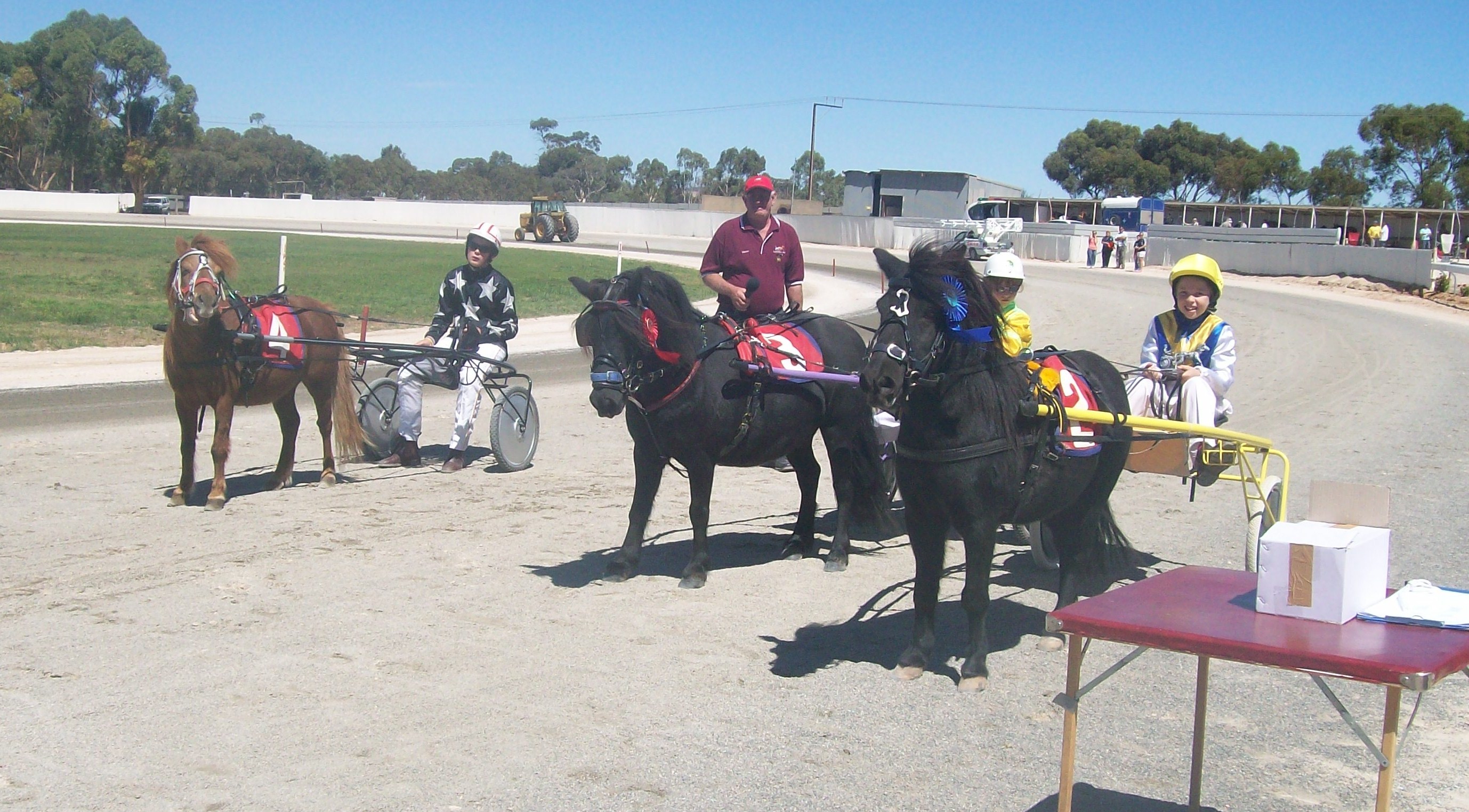 The three placegetters with their Rosettes
RACE 2 - KAPUNDA OPEN CLASS PONY CUP
1st – Magpie Mary – Kaycee Carey
2nd – Mr Mischief – Matthew Williams
3rd – Way To Go – Kathryn Lehmann
4th – Chilli Knights – Brodie Webster
5th – Little Paleface
6th – Lord Monty – Jacob Starick
7th – Wynkie Sweet Fairytales – Jodie Billinger
8th – Monkey Business – Chantelle Dodd
9th – Born To Be Wild – Hayley Lehmann
10th – Aadelaidee Lady – Madison Smith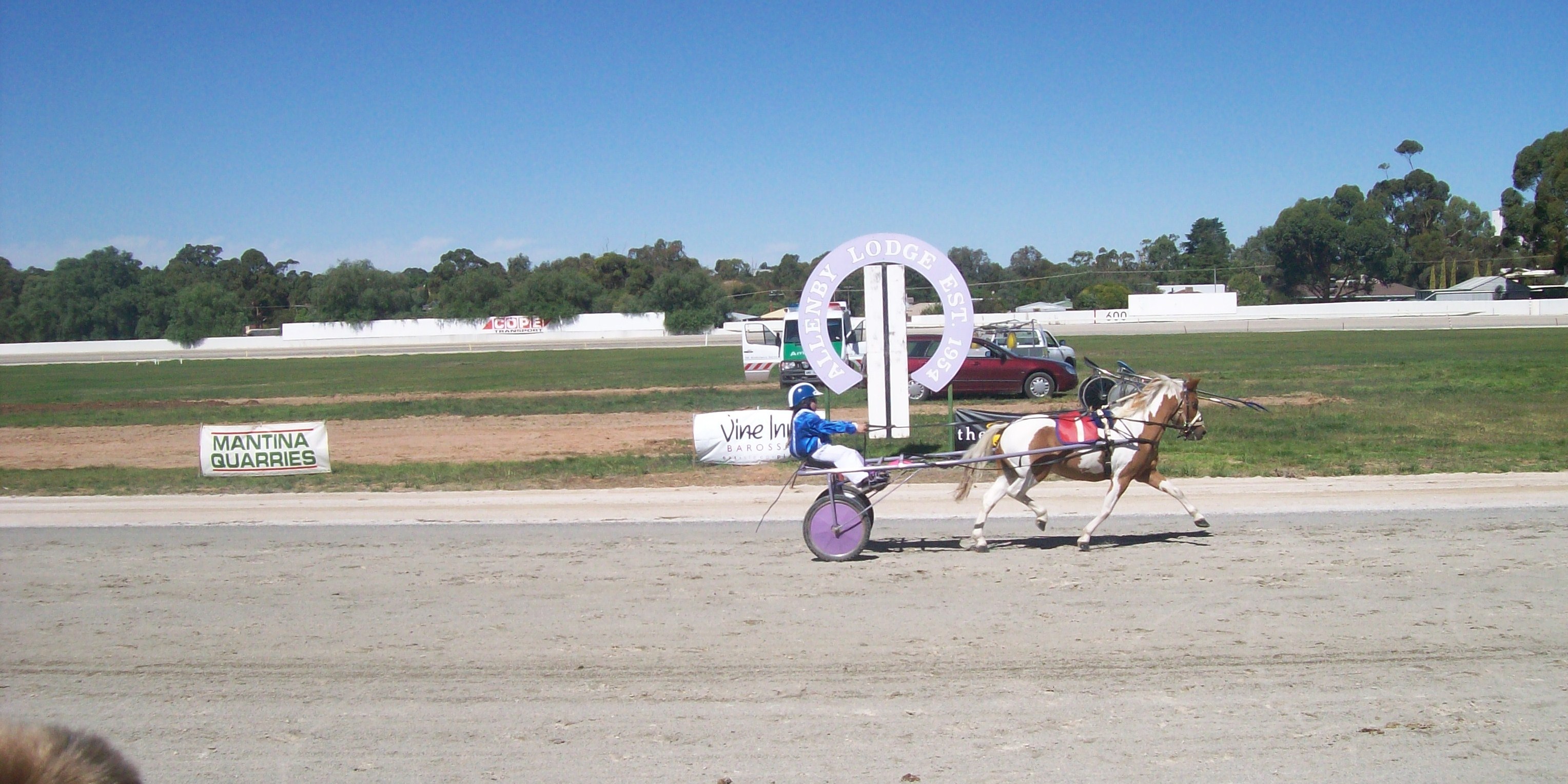 In the Kapunda Cup for the Open Class Magpie Mary driven by Kaycee Carey started off the front mark and cruised away for an easy win beating last night's winner Mr Mischief with Way To Go finishing third.
It is hard to tell who had the bigger smile after their races Jennifer Lehmann or Kaycee Carey.