RESULTS
MOUNT GAMBIER
11 MARCH 2011
Winner of the Naracoorte Cup Sponsored by Greg Scholefield Racing Stables
Grady Hutchesson after being presented with his trophy and pony rug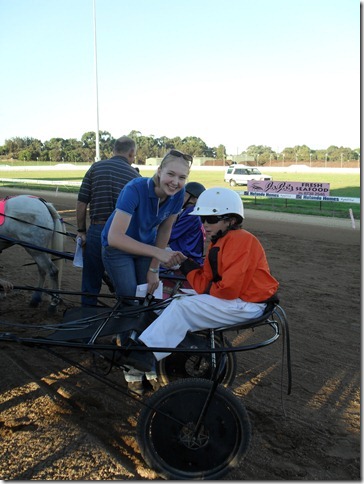 Winner of the Heywood Veterinary Hcp
Josh Micallef & Run Jemma Run being presented with his prize from the Heywood Veterinary clinic
The smaller ponies dominated the action at the Greenwald Paceway on Friday night.
Race 1, The Heywood Veterinary Clinic Hcp, saw Run Jemma Run (Joshua Micallef) take the lead early, ahead of White Lightning (Tom Rundle) who missed the start. Snoopy (Kylie Shepherd) broke under pressure in the hunt for the lead. Slim Dusty (Stacey Barker) started well and steadily made his way through the field.
Abbey Gull (Willow) followed Run Jemma Run throughout without utilising Josh Micalleffs innovative navigation. J. Micalleff was cautioned for control of his pony. Jackie Barker (Marmalade) and Matthew Shepherd (Frankie under Fire) were unable to capitalise on their near perfect drives, while Emma Greenfield (Pumpkin) trotted roughly.
In the run for home Run Jemma Run lead into the straight with a fast finishing Minty (Emma Rundle) chasing hard. They maintained their momentum to hit the line ahead of Minty (Emma Rundle) who finished 2nd ahead of Slim Dusty 3rd, followed by Willow, Marmalade, Pumpkin, Frankie under Fire, Snoopy & White Lightning.
The Naracoorte Pony Cup, sponsored by the Greg Scholefield Racing Stables was a fiercely contested race thoroughly enjoyed by the crowd.
With the ponies handicapped from the 600m mark to the 905m mark as the whistle blew the crowd was left wondering how they would overcome their huge handicaps.
Joshua Micallef (Run Jemma Run) started off well looking for a double for the night. As the ponies raced into the back straight on the Pamela Grady Hutchesson made his move four wide parked outside White Lightning (Tom Rundle) after having started well. Tom Rundle urged him on to put pressure on Frankie under Fire. Willow (Abbey Gull) passed Run Jemma Run to move to second, chasing Pamela at the top of the straight.
On the turn Minty from her back mark made ground at the top turn ahead of Marmalade (Jackie Barker) who was trotting well. Pumpkin caught the field at the top of the straight passed Marmalade and found a path through the middle of the pack.
It looked as if the backmarkers would finish best but Grady Hutchesson (Pamela) managed to hold the lead to cross the line 2m ahead of a fast approaching Minty from Pumpkin in 3rd place by 1m. They were followed by Marmalade, White Lightning, Frankie under Fire, Willow, Slim Dusty, Snoopy & Run Jemma Run. Time: 2.12.01 Margins: 2mx1m