RESULTS

Mt Gambier
Friday, 14th December 2012

Sponsored by ~ The Sealey Silage Wrapping & Ron and Ros Thomas

Pony Racing at the Paceway
The ponies at the Greenwald Paceway on Friday night sparkled onto the track with tinsel, antlers & ribbons marking the last meeting before Christmas.
Race 1: The Sealey Silage Wrapping Handicap
Christmas bells were ringing as the ponies stepped onto the track and waited for the whistle to be blown.
Front marker Blaze (Courtney Sealey) got away quickly and started the dash to the finish line.
Willow (Abbey Gull) chased hard to catch the leader as fast approaching Slim Dusty (Stacey Barker) worked tirelessly to gain ground.
Meanwhile, Zena (Jhett Perry) was overtaken by backmarker Pumpkin (Emma Greenfield) on the turn as she worked her way up the field.
Blaze, under constant pressure from Courtney Sealey, continued to lead the way with Slim Dusty moving up from behind. The pair battled for the lead in the run for home with Courtney Sealey all smiles as she drove her pony over the line for her first win for the season.
Slim Dusty finished strong in 2nd place while a speedy Pumpkin took home third, after passing Willow who managed to hang on to fourth. An unlucky Zena followed on.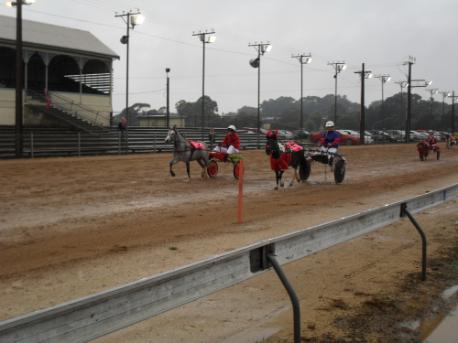 Courtney Sealey and Blaze winning Race: 1
Race 2: Ron & Ros Thomas Handicap
Later in the evening, the ponies hit the track for a second time, giving the audience another exciting spectacle.
Blaze (Courtney Sealey) set off nicely but was chased hard by Willow (Abbey Gull) and Slim Dusty (Stacey Barker) who was closing the gap fast.
Zena & Jhett Perry started further forward in the field and used this to their advantage, pursuing the front runners eagerly, with Pumpkin (Emma Greenfield) trotting quickly to try and catch the field from behind.
In the home straight, Slim Dusty gained ground drawing alongside Blaze until Stacey Barker, in a show of talent, pushed her charge ahead to take home the prize.
Blaze (Courtney Sealey) finished second, followed by a well driven Zena (Jhett Perry). Willow (Abbey Gull) held on to take fourth place while the distance proved too much for backmarker Pumpkin (Emma Greenfield).
Stacey Barker and Slim Dusty winner's of Race: 2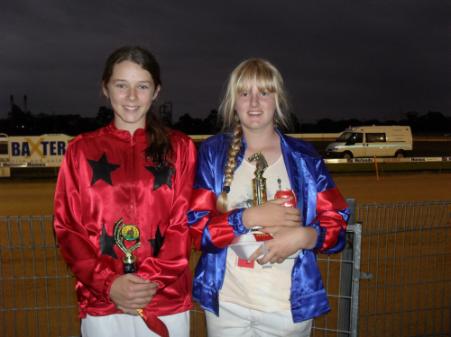 Courtney Sealey and Stacey Barker receiving their trophies
Future Events
Pony racing returns on the 8th January in the lead up to the Summer Cups.