RESULTS

Mt Gambier
Sunday, 17th March 2013

Sponsored by ~ Darryl Perry & Scholfield Racing Stables
MAIDEN PONY WINS NARACOORTE CUP
A field of 8 ponies & 9 drivers entered the two races scheduled for the Naracoorte Cup evening on Sunday at Greenwald Paceway.
The end of the season is approaching & the fight for Pony of the Year points has heightened with two ponies emerging as the clear leaders with only a few points separating them. The winner will be determined at the next race meeting on Easter Monday, April 1st, with a planned 3 races scheduled throughout the main meeting.
Race 1: Perry Family Handicap
Anxious to gain points, the driver's lined their ponies up at the start, ready for the coming battle. Amongst the line-up, new pony Yoshi, driven by 2nd season driver Courtney Sealey, settled nervously in the wait for the start.
As the whistle blew all ponies started well, with Willow (Abbey Gull) looking comfortable in the lead, while Blaze (Stacey Barker) was working his way steadily forward from behind.
Zena (Jhett Perry) followed along closely behind Blaze, & Jackim (Jacob Opperman) finding the pace too strong settled back in the field.
Yoshi safely negotiated the track in his first race but found his handicap much too challenging, with the backmarkers approaching quickly from the rear.
As Pablo (Emma Shepherd) advanced forward Minty showed the crowd what she was capable of - under the skillful guidance of Matthew Shepherd she glided through the field, with Pumpkin (Emma Greenfield) in hot pursuit but unable to close the gap.
In the run for home Willow was overcome by the approaching field with Minty blitzing down the outside to take out a thrilled Matthew Shepherd for his first win for the season.
They were followed by Blaze, Zena, Pumpkin, Pablo, Willow, Jackim & Yoshi.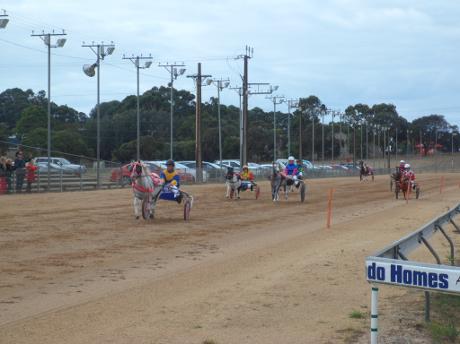 Minty and Matthew Shepherd
Race 2: The Scholefield Racing Stables Naracoorte Cup
The ponies set off from their marks with frontrunner Jackim setting the pace in perfect form, extending his lead from Willow with every stride.
In the midfield Yoshi made steady headway but was overpowered by stablemate Blaze & the fast approaching Zena.
Closing the gap from behind was Minty followed by Pumpkin, with Pablo (Jessica Shepherd) unable to maintain the pace.
Down the home straight it was Jackim all the way with the field trailing behind unable to gain ground. A jubilant Jacob Opperman took out the win behind the biggest pony in the field for their first life-time success. A trophy & pony rug was awarded to the pair for their achievement.
Second over the line was a fast finishing Minty, ahead of Zena, Blaze, Pumpkin, Willow, Pablo & Yoshi.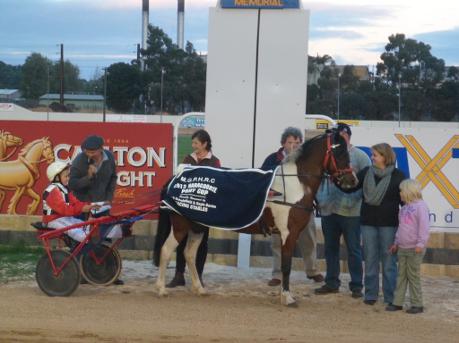 Jackim and Jacob Opperman
~Future Events~
The South Australian Pony Harness Racing State Championships will be held at Globe Derby on the 12th & 13th April.
Competitors from Mt Gambier will be attending with the reigning Pony Division champion, Minty, driven by Matthew Shepherd, attending once again to defend the title