RESULTS

Mt Gambier
Sunday, 20th January 2013

Sponsored by ~ Gambier Print and The Tankman & Radley's Plastering Heywood Pony Cup

ZENA SURPRISES ALL IN HEYWOOD CUP
A field of 8 ponies gathered for what promised to be a great evening of racing. The Heywood Cup was generously sponsored by The Tankman and Dean Radley Plasterers who donated a set of harness for the winner of this much sought after event.
Race 1: Gambier Print Handicap
Race 1 began with Willow (Abbey Gull) taking the lead from Frankie Under Fire (Aaron Shepherd) down the inside rail.
Behind the leaders a fierce contest between Smokey (Millie Beveridge) and Blaze (Courtney Sealey) was ensuing with both ponies fighting for position & advancing strongly. Despite her best efforts Zena (Jhett Perry) was unable to stay with them & settled in behind.
The backmarkers progressed forward steadily with pony Marmalade returned to the track for her first race this season with driver Stacey Barker. Marmalade's advance was cut short by Minty (Matthew Shepherd) & Pumpkin (Emma Greenfield) in the run for home but both ponies were having trouble maintaining their gait.
In the run for the line it was Smokey & Millie Beveridge who blitzed down the outside to take victory from Willow in 2nd place & Blaze in 3rd place ahead of Frankie Under Fire, Pumpkin, Minty, Marmalade & Zena.
Millie Beveridge and Smokey

Race 2: Heywood Cup sponsored by The Tankman & D. Radley Plasterers
The Heywood Cup started at the whistle with pre-race jitters causing a few ponies to break stride. As they settled into the race Frankie Under Fire took the lead from Willow while Zena from behind took advantage of her new handicap & steadily advanced forwards.
In the mid-field Smokey was trotting well but was unable to make ground on Blaze who was progressing towards the leaders.
Meanwhile the backmarkers were fighting for supremacy down the back straight. Marmalade was unable to hold back Minty (Emma Shepherd) & Pumpkin, with Minty having the edge as they approached the turn.
Down the home straight amidst cheering from the crowd Zena forged to the lead. Frankie Under Fire was battling on to hold his position while Blaze quickly closed in from behind.
Zena & a jubilant Jhett Perry won the Heywood Cup in grand style with Frankie Under Fire just holding on for 2nd place by a nose to Blaze. Following on were Willow, Minty, Pumpkin, Smokey & Marmalade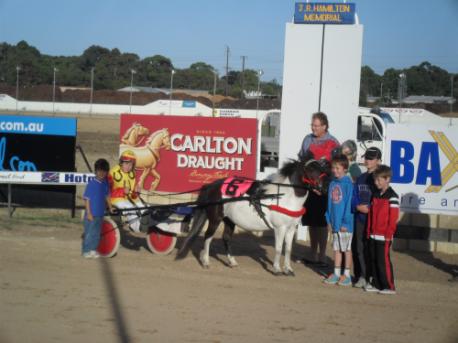 Jhett Perry and Zena winners of the Heywood Pony Cup

~Future Events~
**Glencoe Cup**
Pony racing will continue on Sunday 3rd February with the running of the Glencoe Cup sponsored by the Glencoe Community. The winner will be awarded with a pony rug from The Tack Room Saddleworld.