RESULTS

MOUNT GAMBIER - 22 JANUARY 2012

MINTY TRIUMPHS IN A DOUBLE
Greenwald Paceway came alive on Sunday evening with the beginning of the Pony Summer Cups.
In front of a huge crowd 9 ponies took to the track, with Blaze driven by Courtney Sealey emerging for the first time.
Race 1
The Castec Rural Supplies Handicap began with ponies flying off their marks at the whistle.
Frankie Under Fire (Aaron Shepherd) took the lead early from Snoopy (Kylie Shepherd) who had trouble settling, with Hamilton Cup winner, Willow (Abbey Gull), closing the gap behind.
Midfield, Slim Dusty (Stacey Barker) was making steady ground meeting frontmarkers at the turn & was unable to find a clear passage through.
The backmarkers were forced wide on the track to get around the field. Minty driven faultlessly by Matthew Shepherd stole the lead in the straight to take out the win in spectacular fashion a length ahead of a fast approaching Pumpkin (Emma Greenfield) with Marmalade(Jackie Barker) coming in 3rd place.
They were followed by Willow, Slim Dusty, Frankie Under Fire, Chasing the Stars (Grady Hutchesson), Snoopy & Blaze.
New driver, Courtney Sealey, had a commendable drive behind Blaze on his first ever race appearance.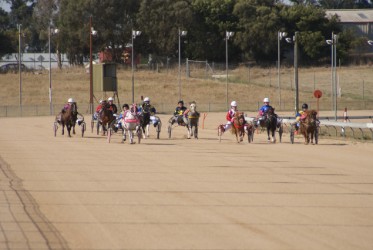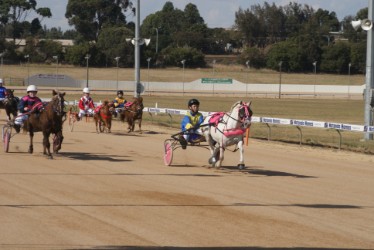 MInty and (Matthew Shepherd) races for home ahead of Pumpkin (Emma Greenfield)
Race 2
The Young Drivers of the Future Cup sponsored by P&L Livestock & Real Estate started well.
Emma Shepherd now driving Minty put in a faultless performance, trotting all the way making ground at every post.
Frankie Under Fire once again led the way until the straight. Unable to maintain his momentum Snoopy & Slim Dusty drew alongside.
Emma Shepherd drove Minty wide on the track to pass the field & took the lead easily.
Slim Dusty chased hard, with Marmalade following on & gaining ground but running short of space.
Chasing The Stars & Blaze faded, while Snoopy & Willow battled on struggling with their handicaps.
A very excited Emma Shepherd drove Minty over the line to take out the Young Drivers of the Future Cup winning a pony rug & trophy for their efforts. Slim Dusty ran into 2nd place & Marmalade came 3rd.
Next in line was Pumpkin, Frankie Under Fire, Snoopy, Willow, Chasing The Stars, & Blaze.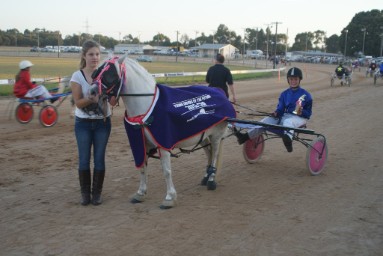 MInty winner of the Young Driver of the Future Cup with Hayley Greenfield (owner/trainer) and Emma Shepherd (driver).
Pony Gold Cup
On Friday 27th January is the running of the 2012 Pony Gold Cup sponsored by Balnaves of Penola & the Drury Racing Stables.
There will also be a free children's pony draw raffle for children up to the age of 16 yrs. Prizes have been donated by Toffee & Treats Penola and the Penola Fantasy Model Railway & Tearooms.