RESULTS

MOUNT GAMBIER - 27 JANUARY 2012

The Mount Gambier Pony Gold Cup sponsored by Balnaves of Penola and the Drury Racing Stables generated volumes of interest among the huge crowd on Saturday night.
The ponies started the marathon race well, all settling into their gait quickly. The backmarkers wasted no time to gain ground on the front runners. Minty and Matthew Shepherd edging in front of Marmalade and Jackie Barker, until breaking gait and allowing Marmalade to pass on the inside. Pumpkin and Emma Greenfield chased hard from the back mark, slowly making ground on other runners.
Out in front, Snoopy and Kylie Shepherd held the early lead from Frankie Under Fire and younger brother Aaron. Willow and Abbey Gull steadily edged forward.
Blaze (Courtney Sealey) and Chasing the Stars (Grady Hutchesson) performed well in their first marathon race, settling near the front until midway down the straight until the final stages of the race.
Slim Dusty and Stacey Barker trotted nicely gaining ground on the smaller ponies at the front. In the home straight he slowly began to make his way through the field and looked a major danger on the home turn.
The home run saw Marmalade coming on strong down the outside with Minty chasing hard but all too late. Pumpkin flew from behind, gaining on the leaders but the finish line came up too soon. Driven superbly by Jackie Barker, Marmalade took out the 2012 Mount Gambier Pony Gold Cup, receiving a Gold Cup trophy donated by Balnaves of Penola and pony rug donated by the Drury Racing Stables.
Second place was Minty and Matthew Shepherd and third was Pumpkin and Emma Greenfield. Slim Dusty narrowly missed out on a placing, coming in at fourth and was closely followed by Willow, Snoopy, Blaze, Chasing the Stars and Frankie Under Fire.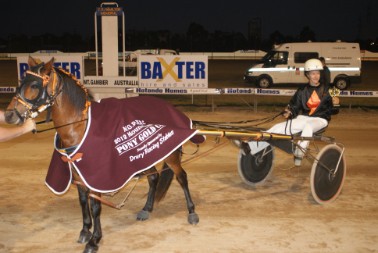 Jackie Barker and 27 year old Marmalade after receiving their rug and trophy. Presentation photo – Jackie Barker, Layne Blackwell, Erica Balnaves and Zara Blackwell.
The free Pony Gold Cup Sweep was won by a very lucky Georgia Smith who received a family pass to the Fantasy Model Railway and Tearoom at Penola and a candy basket donated from Toffee and Treats of Penola.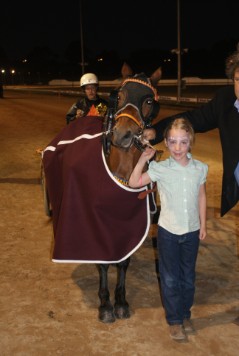 Georgia Smith winner of the Free Sweep conducted on the Mount Gambier Gold Cup with Marmalade and Jacqui Barker.
It was a very successful evening with all competitors enjoying the thrill of racing in such a prestigious event.
This Sunday event is the Heywood Cup sponsored by the Tankman and Dean Radley Plasterers.