RESULTS

MOUNT GAMBIER - 5 FEBRUARY 2012

Wet windy conditions greeted the crowd on Sunday evening for the running of the Heywood Cup sponsored by The Tankman & the Dean Radley Plasterers with a very generous first prize of a set of pony harness.
Race 1 Heywood Veterinary Clinic Handicap
The 1st pony race, sponsored by the Heywood Veterinary Clinic, saw 8 ponies & drivers brave the weather in front of a small but enthusiastic crowd.
At the whistle Frankie Under Fire driven by Aaron Shepherd took the early lead from Snoopy & Kylie Shepherd.
Willow & Abbey Gull came quickly from behind & with a show of skill darted between Snoopy and Frankie Under Fire to take the lead. Courtney Sealey guided Blaze through the frontrunners to sit comfortably behind Willow in 2nd place into the straight.
Meanwhile Slim Dusty & Stacey Barker were working their way patiently forward gaining on the leaders. With huge handicaps, the backmarkers had to work hard to catch the field.
Minty, driven by Matthew Shepherd, struggled to her gait at the start, allowing Marmalade (Jackie Barker) & Pumpkin (Emma Greenfield) to forge ahead. This pair tussled for position in the back straight with Pumpkin eventually dominating by the back turn.
Pumpkin then caught the field at the top of the straight to power home to win by 20m.
Five ponies hit the line behind Pumpkin all spread across the track with just a long neck separating them all. Willow held ground to come 2nd, followed by Slim Dusty in 3rd place, ahead of Marmalade, a very unlucky Blaze, Snoopy & Frankie Under Fire.
Race 2 The Tankman/Dean Radley Plasterers Heywood Cup
The ponies jumped away from the start with Frankie Under Fire starting well but unable to stop Snoopy from racing to the lead.
Willow trailed up behind Frankie Under Fire, Abbey Gull looking for an inside run but with nowhere to go had to pull out wide. Blaze followed on but lost ground in the straight after breaking stride allowing Slim Dusty & Stacey Barker to overtake. Stacey Barker guided her pony through the field to take the lead. Minty, driven by Emma Shepherd, trailed the field to the home turn, where she gathered speed & put on an impressive challenge down the home straight.
Marmalade struggled to find her gait, while Pumpkin trotted down the outside in an incredible show of speed from the backmark to comfortably pass the field. Slim Dusty was 2nd over the line with Minty finishing strongly for 3rd, followed by Willow, Marmalade, Snoopy, Blaze & Frankie Under Fire.
A very grateful & excited Emma Greenfield took out The Heywood Cup, winning a set of pony harness donated by The Tankman & Dean Radley's Plasterers.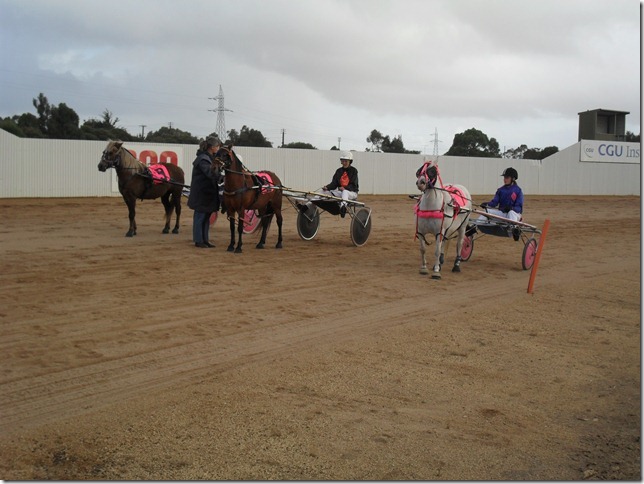 On the Starting Line for the Heywood Pony Cup, Minty (Emma Shepherd, inside), Marmalade (Jackie Barker, centre)and Pumpkin (Emma Greenfield, outside).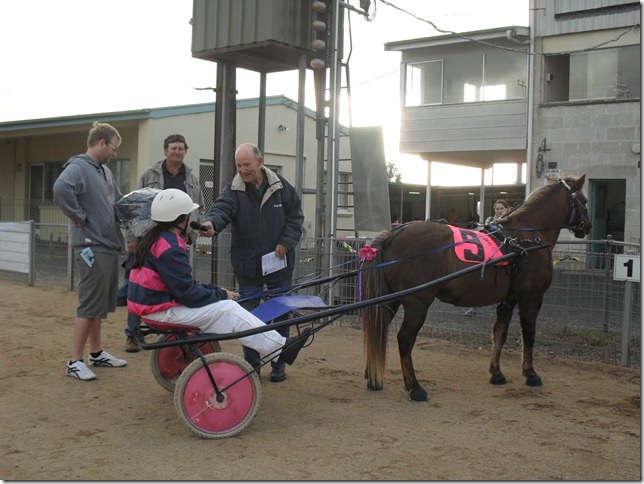 Barry Carraill interviewing Emma Greenfield (Pumpkin) after her win and at presentation with Generous sponsors Scott McCulloch (The Tankman) and Dean Radley Plasterer's present Emma with a Pony harness for winning the 2012 Heywood Pony Cup.