RESULTS

Mt Gambier
Friday, 8th February 2013

Sponsored by ~ Jesse Gravestock and Ron Sewart & Peter Lamond
COURTNEY SEALEY IS YOUNG DRIVER OF THE FUTURE
With the Mt Gambier Pony Gold Cup nearing the competition amongst the ponies is strengthening. Friday night saw the running of the Young Drivers of the Future Cup sponsored by P & L Livestock & Real Estate with 9 eager drivers fighting for points.

Race 1: J Gravestock & R Sewart Disc. Hcp
Run Jemma Run (Jacob Opperman) set off at the whistle taking the early lead with Frankie Under Fire (Aaron Shepherd) & Willow (Abbey Gull) in hot pursuit.
Working hard mid-field was Blaze (Courtney Sealey) who was gradually pulling away from Zena (Jhett Perry) & making his way towards the front-markers.
At the rear of the field, but approaching quickly, the back-markers battled for position, with Minty (Matthew Shepherd) settling in front of Jackim (Joshua Micallef) & Pablo (Emma Shepherd) while maintaining her distance from Pumpkin (Emma Greenfield).
Down the home straight the ponies merged together in a group with Abbey Gull pushing her pony ahead of the front-markers & making a desperate run for the line.
Blaze made a run down the outside but his run was cut short when they hit the line behind a jubilant Abbey Gull & her pony Willow with their first win for the season.
They were followed by Frankie Under Fire, Minty, Pumpkin, Run Jemma Run, Zena, Jackim, & Pablo.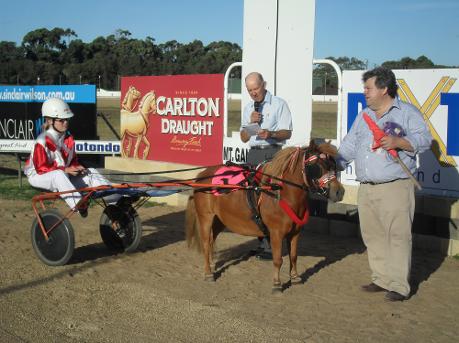 Race 2: Young Drivers of the Future Cup sponsored by P&L Livestock & Real Estate
The ponies jumped away well from the start with Willow moving forward steadily from his new handicap towards Frankie Under Fire & Run Jemma Run.
Blaze, under the determined guidance of Courtney Sealey, increased the distance from Zena with each stride, while further back Pablo was making advantage of his new mark.
The back-markers were once again battling for position with Pumpkin emerging in front of Minty & Jackim in a burst of speed & then taking on the task of catching the front-markers.
Around the turn & down the home straight Frankie Under Fire & Willow were running side-by-side, both drivers urging their ponies to give every inch as they led the field toward the line.
With the crowd cheering them on, Blaze, in a superb drive by Courtney Sealey, stole the show by blitzing down the outside & taking the honours by a margin of 2m to Willow & Frankie Under Fire.
Following on were Pablo, Pumpkin, Minty, Zena, Run Jemma Run, & Jackim.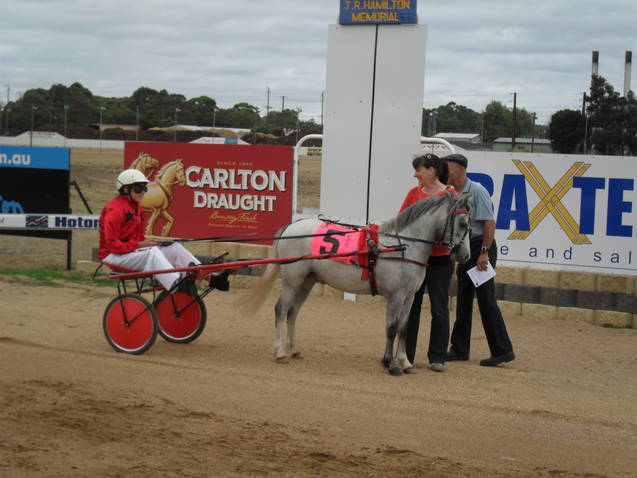 Courtney Sealey and Blaze winners of Young Drivers of the Future Cup

~Future Events~
Mt Gambier Harness Racing Pony Gold Cup
Next Saturday night will be the running of the Pony Gold Cup sponsored by Balnaves of Penola & The David Drury Racing Stables. This event has attracted a field of 11 ponies with one entrant from Globe Derby.