RESULTS

Mt Gambier
Tuesday, 8th January 2013

Sponsored by ~ The Gull Gamily & Looking For Sponsors

BLAZE & SMOKEY LIGHT UP THE TRACK
There was a huge crowd at The Greenwald Paceway on Tuesday night enjoying the cooler weather that the evening had on offer. The grandstand was full of people gathered to watch the 2 scheduled pony races, with new-comer Millie Beveridge & her pony, Smokey, lining up for their first life-time start.
Race 1: The Gull Family Handicap
At the sound of the whistle front-runner Willow driven by Abbey Gull took off from their mark with a handy lead to Blaze who was steadily moving forward under the guidance of Courtney Sealey.
Working hard from behind the backmarkers had a seemingly impossible task to catch the leaders. Minty stepped out well in her first race for the season gaining ground with each stride as Matthew Shepherd urged her on.
New-starters, Smokey & Millie Beveridge, started out wide & put in a faultless performance throughout the entire race.
Pumpkin (Emma Greenfield) with her usual racing tenacity tried very hard from behind but struggled to make ground chasing Minty who was gradually pulling away.
Out in front Willow was desperately trying to hold onto his lead in the run for home but a very excited Courtney Sealey stole the glory as she drove her pony Blaze in from behind to win by a short half head.
Following on in 3rd place was Minty, ahead of Pumpkin & Smokey.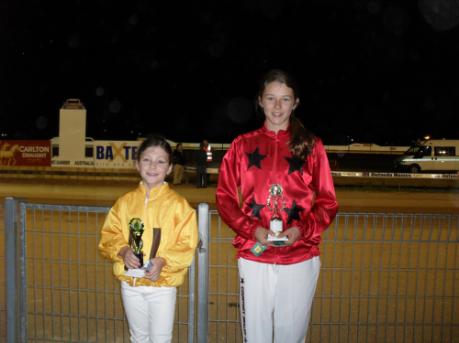 Millie Beveridge and Courtney Sealey

Race 2: Looking For Sponsors Handicap
The ponies started off well in Race 2 with Willow once again holding the lead followed at a distance by Smokey & Blaze, who were both gaining ground.
Backmarker Pumpkin continued to fight her way forward, with stablemate Minty (Emma Shepherd) maintaining the gap between the two.
In the home straight the gaps grew thinner as the ponies bunched together in the run for the line.
Smokey & Willow were battling for the lead with the field quickly approaching from behind. Smokey forged to the front & took the honours with a delighted Millie Beveridge in the sulky on her first night of competition.
Willow maintained his form in 2nd place followed by Blaze, Minty & Pumpkin.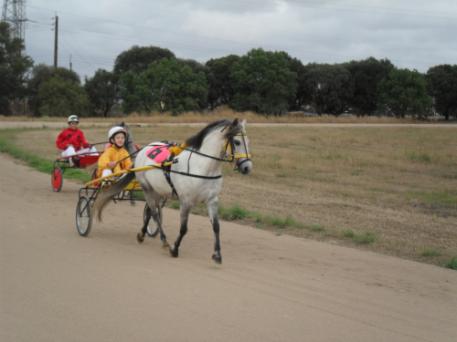 New driver Millie Beveridge & Smokey

Future Events
Racing returns on January 20
th
with the running of the Heywood Cup sponsored by The Tankman & Dean Radley Plasterers.