RESULTS
GLOBE DERBY PARK - 23 October 2010
WATPAC Globe Derby Birthday Cup
Proudly Sponsored by Just Ribbons
Meat Raffle donated by Dublin Meats
Season Sponsors Harness Racing SA, SA Harness Racing Club and John Rothe Video
Tonight was the WATPAC Globe Derby Birthday Cup meeting which celebrated the horse Globe Derby's 100th Birthday. With a crowd of around 2,000 people in attendance it was party time with the 5AA Alstars band playing, excellent give-aways including a $1,500 Flight Voucher and 2 Nindendo's for a boy and a girl. Thank you to the young drivers and their families who helped distribute the many vouchers and party cakes throughout the night.
The SAHRPA set up a stall under the grandstand to promote our Association and sell raffle tickets for a meat tray which was kindly donated by Dublin Meats.
The harness racing industry has another passionate person coming through the ranks this time a race caller and SAHRPA are keen to support him. Rehn Nagel who turns 11 years on Monday put a lot of hard work and preparation into calling the pony races tonight, the task wasn't easy as Rehn being from Port Pirie is not familiar with most of the local drivers and ponies. However, all Rehn's study paid off and he did a wonderul job.
| | | |
| --- | --- | --- |
| 1st | Wynkie Sweet Fairytales | Chantelle Rendall |
| 2nd | Wandarra Tess | Jacinta Gilbert |
| 3rd | Little Paleface | Emma Johnson |
| 4th | Lapanacaton | Nicholas Brown |
| 5th | Petti Cheval | Jennifer Lehmann |
| 6th | Way To Go | Kathryn Lehmann |
| 7th | Born To Be Wild | Cameron Jacques |
| Scr | Aadelaidee Lady | Madison Smith |
In the first race Born To Be Wild now trained and driven by Cameron Jacques started off the front mark but was soon overtaken by the shetland Wandarra Tess who took the inside run and Wynkie Sweet Fairytales swinging wide around him. As the ponies turned for home Wynkie Sweet Fairytales had a nice lead in front of Wandarra Tess who continued to hold her own from the back marker and quick beginner Lapanacaton.
The results were Wynkie Sweet Fairytales 1st driven by Chantelle Rendall, 2nd Wandarra Tess tonight driven for the first time by Jacinta Gilbert and 3rd Little Paleface just grabbing Lapanacaton on the line. Thank you to Greg Sugars who presented the drivers with their ribbons.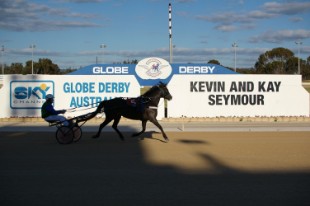 Wynkie Sweet Fairytales crossing the line first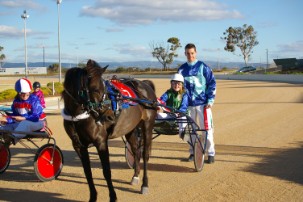 Wynkie Sweet Fairytales at presentation with Greg Sugars
| | | |
| --- | --- | --- |
| 1st | Its All About Me | Chantelle Rendall |
| 2nd | Mr Mischief | Bailey Hoare |
| 3rd | Razzle Dazzle | Jacinta Gilbert |
| 4th | Midnight Star | Sharni Newman |
| 5th | Eddy's A Fake | Jodie Billinger |
| 6th | PJ | Bryce Gilbert |
| 7th | Swamp Fire | Nicholas Brown |
| 8th | Westbury Bogart | Shannon Platts |
| 9th | Lets Tango | Emma Johnson |
Most ponies stepped away well in the second event tonight except Eddy's A Fake who stood flat footed at the start and therefore was slow to get away. Turning for home it was Its All About Me (Chantelle Rendall) leading the field with the shetlands all very close PJ, Razzle Dazzle, Swamp Fire, Eddy's A Fake and Midnight Star. Crossing the line Its All About Me held on the win by a length from the fast finishing Mr Mischief with 6 year old newcomer Bailey Hoare driving him. Razzle Dazzle finished third ahead of Midnight Star. Thank you to Nigel Milne for presenting the ribbons to the placegetters.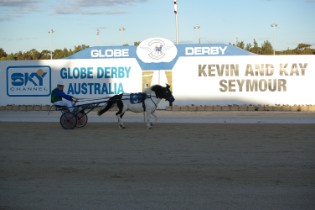 Its All About Me crossing the line 1st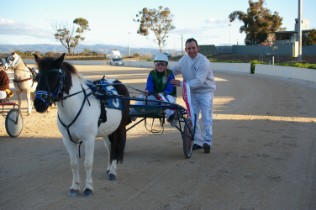 Its All About Me at presentation with Nigel Milne
| | | |
| --- | --- | --- |
| 1st | Chilli Knights | Chantelle Rendall |
| 2nd | Mr Murphy | Corey Johnson |
| 3rd | Chickabarquar | Emma Johnson |
| 4th | Little Kizz | Christie Gilbert |
| 5th | Pee Wee 50 | |
| 6th | Our Sir Patchalot | Jodie Billinger |
| 7th | Reggie Ledgie | Cameron Jacques |
| 8th | Harley Davidson (relegated) | Shannon Platts |
The final event was very adventurous for one family with newcomer Harley Davidson (Shannon Platts) rearing at the start and striking track handler Scott Forby in the ribs (ouch). After the incident Harley Davidson trotted off very fast and turning for home with Chickabarquar in front, Our Sir Patchalot pulling to the outside and Pee Wee 50 even wider, Harley Davidson was scooting through on the rails when Shannon had some gear failure and the pony took off bolting and bucking. It was great horsemanship by Shannon Platts to control the pony. Due to Harley Davidson misbehaving he was relegated to the rear of the field amending the placings to Chilli Knights 1st driven by Chantelle Rendall making this three wins for the night. What a night to remember for Chantelle Rendall. A very close 2nd was Mr Murphy and Chickabarquar holding on for third placing. Thank you to Kevin and Kay Seymour for kindly presenting the ribbons tonight.
NOTE: Harley Davidson is required to trial twice satisfactory before racing again.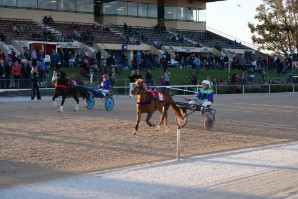 Chilli Knights and Mr Murphy crossing the line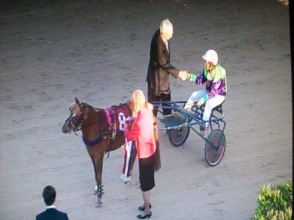 Chilli Knights presentation with Kevin & Kay Seymour