AUSSIE, AUSSIE, AUSSIE by Michelle Goble
Most people who have watched the ponies race will know of Aussie as it seems she has been around for ages. After starting out with the Seal family Aussie has had a few homes along the way but has completed a full circle, being back with Melanie for her son, Jason, to drive in the pony races.
Aussie was given to the Seal family after being orphaned as a foal. She was named 'Aussie' as she was born on Australia day 19 years ago. She was raised by Melanie's grandparents in Enfield and was so little that she could be picked up and due to her small size, she was very spoilt!
Aussie was broken in by Jeremy and although having a bit of attitude at first she soon came round. She was not the fastest pony but was very reliable. After she had been educated she was taken to the pony races where she was driven each week by Kimberley Swenson.
When Melanie began driving one of the Lobb's ponies Aussie was given to Andrew when he began driving ponies. She spent many years under the care of the Lobb family where she competed in both the Sydney and Adelaide Inter Dominions.
Aussie is also a mother, having a foal in 2003 called 'Ooii' (as in Aussie Aussie Aussie Ooii Ooii Ooii). When Ooii was ready to be weaned the Billinger family picked Aussie up from Leanne Lobb's place so Jodie could have two ponies to drive. Aussie came to the Billinger's with a bit of a reputation but since having her foal her personality had evidently changed as she was a lovely pony both in and out of the bike. The Billinger's had Aussie for 5 years where she was both driven and ridden by many friends who came around to visit. After they moved from Two Wells to Globe Derby it became apparent that Aussie needed the 'paddock' life to move around as she was becoming a bit arthritic so she was returned to Leanne Lobb.
Aussie then had a short stint in Mildura with Marla Collins as Marla learnt how to ride and drive a pony, Marla didn't want to give Aussie back as she had fallen in love with her but it was time for Aussie to do a complete 360 and return home to Melanie for her son Jason Kittel to drive.
Throughout her racing career Aussie has been driven by Kimberley, Melanie and her brothers Josh and Jeremy as well as Jodie Billinger, Marla Collins and Andrew and Katie Lobb. Melanie thinks she may have had some other drivers along the way as well.
Keep up the good work Aussie.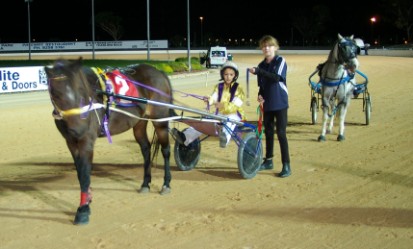 Aussie and Jodie Billinger